Imagine a world in which writing your manuscript
was a breeze...
Imagine crossing writing tasks off your to-do list and feeling the accomplishment after sitting down at your computer and successfully finishing your manuscript without writer's block, insecurities, and never-ending procrastination.
Wouldn't it be exciting to write up your work and share your amazing science with the world instead of agonizing over the writing process?
Imagine a world where it doesn't matter if you:
✔︎ Have never before written a paper
✔︎ Consider yourself a bad writer
✔︎ Are not a native English speaker
✔︎ Have no time to spare 
GOOD – because the craziest part of this whole scenario
is how EASY it is to get there!


Everyone, no matter their experience, writing skills, or native language, can successfully write a good scientific research paper.
I was there once – a ball of stress trying to figure out how to write my paper. I was so hard on myself for not being able to sit down and write – and every word was as painful as pulling teeth!


And every single day I wasn't metaphorically bleeding onto a page, I felt guilty that I wasn't writing.
I still cringe when I think of the conference abstract that took me DAYS to write.
Days of stress for a few hundred words.
Days where I was not dedicating my energies to my research project.
Ouch.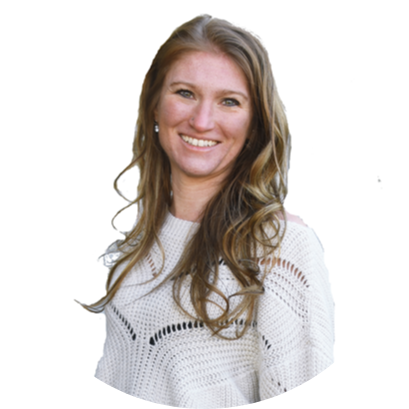 For my first paper, I quickly learned to avoid even sitting at my desk because I had no idea or plan for what I would do besides stare at my screen and hope that was the day words came out.
I tried reading other papers in the field, but I had no idea how to get from what was in my head to a similar published paper.
I would tentatively write a few words, and then when I read them, I would delete them all. They were awful! This didn't sound scientific!
I thought maybe if I nailed down a good abstract, it would give me something to build from. But I couldn't even manage a good abstract, and definitely not one I wanted to build on.
If I actually managed to open my document, I did nothing but stare at my blinking cursor in Word, with no idea where to start or what to work on each day when I sat down, which just made the guilt even worse…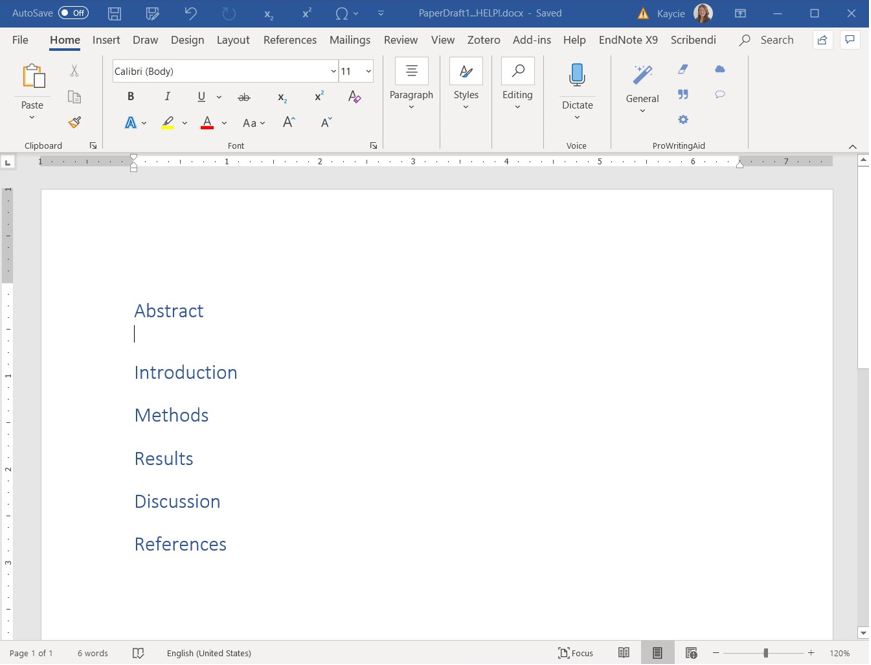 My document looked like this for ages, and I had no idea what to do about it. The blinking cursor on a blank page still gives me nightmares. *shivers*
Then I started to panic.
I knew for sure now that since I couldn't write like the papers I was reading online, my PI would immediately see I had no idea what I was talking about as soon as he read my writing.
He would never take me seriously as a graduate student, again!
Let me tell you how much that doesn't help get words on paper.
Not only that, I started physically HIDING from my PI when I heard him in the hallways, because I knew he would ask me how my writing was going.
Hiding. 
From my PI. 
Like a child playing the world's worst game of hide-and-seek.
In the end, I did get a paper written. 
It took over 6 months and fantastic co-authors that helped me calm down, write some words, and rearrange those words into some semblance of a paper.
…and then my PI promptly re-wrote the entire thing. Ugh.
By the time the paper was published, I was so stressed about the entire process that I never wanted to look at my manuscript again.
During this process, I lived off of comics and PhD humor that exactly reflected this struggle – it helped knowing EVERYONE was going through the same thing!
Now that I am past that stage, though, it just makes me sad – This struggle that's common to us all should NOT be the norm.
Ok, but my question was always HOW? 
- HOW do I write a compelling story? WHAT even makes a compelling story?
- HOW do I know how much background to include?
- HOW do I know when it is too much?
I knew that there must be a better way.
I spent years of reading and editing tons of papers across different fields. Eventually, I figured out patterns behind how exactly information was placed to write a research paper.
And even better, following "good" patterns made a paper good. Following "bad" patterns made a paper difficult to follow or made it easy to miss its importance.
And if there were patterns, there could be formulas! 
Maybe science writing didn't have to be so hand-wavey after all!
From that, I spent hundreds of hours and months and months of time studying papers across science disciplines looking for the exact formulas that would make a paper great and what to avoid to keep it that way.

A very, very small sample of the many papers I read and highlighted looking for patterns!
And from there, I starting developing my course.
Now, this course has been tested by hundreds of students and professors over several years. It has been changed and adapted each time to incorporate all of their feedback, eliminate the confusing points, and answer all of the FAQs.
From this, "Blank Page to Manuscript Draft" was finally born.
Don't struggle to do this on your own – instead, benefit from my years of stress and then my years of work and hundreds to a thousand hours spent trying to find a better way.
- No more stress.
- No more wasted time.
No more hiding from your PI to avoid questions about the paper.
Instead, wake up each morning knowing exactly what you need to write that day, where you will find that information, and how to structure it in your manuscript.
The graduate students and post docs who take my course tell me they waste less time and mental energy getting drafts of their manuscripts on paper.
They are also less stressed in the process, as they know each day when they sit down to write exactly what they need to work on that day.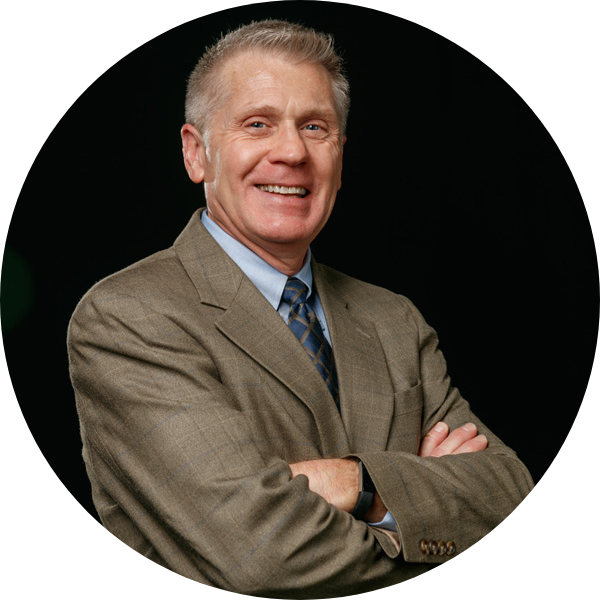 The professors who take or send students to my course tell me they see a marked increase in the quality of the manuscripts that cross their desk and need to spend less time and mental energy on each one and there is less back and forth.
- No more anxious students beating on your door for months asking for your thoughts on their manuscript.
- No more dreading raw student drafts.
- No more stressing that you don't have the time to provide the feedback to help your students grow.
Instead, feel confident that your students will have a well-organized draft and you can spend your time focusing on what matters – the science.
If you have at least one student manuscript on your desk that you have procrastinated on, do yourself a favor and allow your students to do much of this heavy lifting for you - and give them the tools to do it!
Overall, this course first discusses how to structure an IMRAD (Introduction, Methods, Results and Discussion) manuscript, and then goes into detail for each of the main parts of the text of a manuscript:
• Title
• Abstract
• Introduction
• Results
• Discussion
• Conclusion
For each section of their paper, students will
• See a detailed breakdown of an "ideal" version 
- Learn what information goes where and WHY (so you can replicate this on your own!)
- See the most common mistakes writers make in that section and how to fix them
• Practice applying that information to your own drafts (i.e., learn how to edit your own work)
• Learn how to take your new knowledge and apply it to writing the text of each section
• Benefit from checklists for how to get "unstuck" when writing
• Receive detailed reference materials containing everything they need to write their draft, including: 
- Detailed outlines for each section
- A Word template for preparing your own papers
- Dos and Don'ts
- Common words limits
- Verb tenses to use
- And more!
Frequently Asked Questions
✔︎ I am not currently working on a paper, so why should I take this course?
Any writer can benefit from this material! This course was designed to work for either your in-progress draft OR a previously published paper! If you don't have your own draft, it's not a problem at all to use a published paper, and you have several options here - one you previously published, one your lab previously published, or a key paper from your target journal.
By taking this course before you need the information, you will be ready to go when you do need to sit down and write your next paper. With lifetime access to the entire course, it will always be there for you to reference!


✔︎ I've already written papers, so why do I need this course?
You may have already written some papers, but do you feel completely comfortable and confident when you sit down to write a new paper?
Are you sure you are using your time in the most efficient fashion?
If you've never before taken a course in manuscript writing, it is likely that many parts of the writing and editing process are taking you longer than they should.


✔︎ What if I don't think my PI will let me take a course?
The time and energy it will take your PI to correct your raw draft of a paper is worth so much more than the cost of one workshop in manuscript writing. The time savings alone would be well worth your professor's time – if you are at your computer stressing over your paper, you are not working in the lab, either!
Discuss the benefits of taking a course on manuscript writing with your professor. In addition to the benefits to you and your future career, having better first drafts of manuscripts will also save your professor hours of time!


✔︎ What if I don't have the time to take this course? I needed a draft completed YESTERDAY!
If that is the case, then you don't have the time to NOT take this course.
The full set of videos can be watched in one day (6 hours) – it is taught in person as a 1-day workshop!
How much time are you wasting trying to figure out:
• Where to start in general?
• What to work on each day?
• Where a specific piece of information goes?
Learning simplified formulas and exact techniques to write each section of your manuscript will more than make up for the time spent watching the videos and doing the exercises.
Do yourself a favor and save yourself countless hours of work and an unmeasurable amount of stress – ESPECIALLY if you have a draft to write, give yourself the best tools possible.


✔︎ What if I need more help?
Don't worry – we've got your back!
This course comes with access to an exclusive Facebook group moderated by myself and my team of trained editors, where any previous student of my courses has immediate access to our team as well as the collective knowledge of the group!
For any question, no matter how big or small or tangentially related to manuscript writing, you can ask in this group and get quick and knowledgeable answers. If you are having a problem, I'm sure others have encountered similar ones, and we can definitely help you get unstuck!
If you want more help, you can contact us for either a private consultation or manuscript-editing services to help you with your draft. Feel free to email ([email protected]) or see our services page for more information.
This workshop is not right for you if:
• You are looking for someone to write your paper for you
• You don't want to put in the time to properly learn paper-writing skills
• You want results without taking time to do the exercises
This workshop is right for you if:
• You know that scientific writing is a skill that needs to be developed like any other science skill
• You are willing to put in the time and effort to learn how to write a great paper
• You know that you are ultimately the one who will write your papers and want them to be great
This course was designed by a scientist FOR scientists to fill a huge gap in current graduate programs. I have every confidence that this course will give you what you need to get from a blank page to a finished draft of your research paper.
If after 60 days, you find that you don't LOVE this course, I insist that you get 100% of your money back. I'll even eat the processing fees on my end!
So it's that simple – try the course risk free and see for yourself if it eliminates stress and helps you write your paper faster. If not? Just email me and show me what you tried, and I'll refund every cent!
…you are here because you have or will have a paper to write, and if you made it this far, you definitely know how stressful and time consuming this process can be.
I've spent years developing the exact course I wish I had as a graduate student.
Most scientists who learn to write great papers also spend years developing the skills they need to get to that point.
So, how much is your time worth?
Stop wasting time struggling to write. Stop stressing about how much information to include and where to include it. Approach this next paper with the knowledge and skills to write a solid draft quickly and efficiently. Feel confident in your abilities to communicate your work. Finish your paper and get back to what matters more – your science.
So, are you ready to change how you write papers forever?
If you have any questions or concerns about the course, email us! We're happy to help:

[email protected]